MY
Love Affair
WITH
Kayaking
By Colleen Breen
When I was nineteen, I moved from Texas to Massachusetts to attend Hampshire College. I had lived my whole life up to that point in a hot, flat landscape, so when I moved North, I wanted to get to know the landscape as intimately as I could. Hampshire offered a whitewater kayaking class, and that sounded like the perfect activity. I'd never done anything like it before except stand-up paddle-boarding on a lake. Little did I know, it was the start of a love affair with a sport and the river that continues to this day.
My first day on the River was a fall day in New England. The trees burst into the brightest colors I'd ever seen; orange leaves were like monarch butterfly wings. I was on Miller's River, a 50-mile tributary to the Connecticut River just above Turner's Falls. I was nervous at first, but as we went downstream—bouncing up and down through waves, surrounded by a forest on fire with color—I thought: I want to do this for the rest of my life.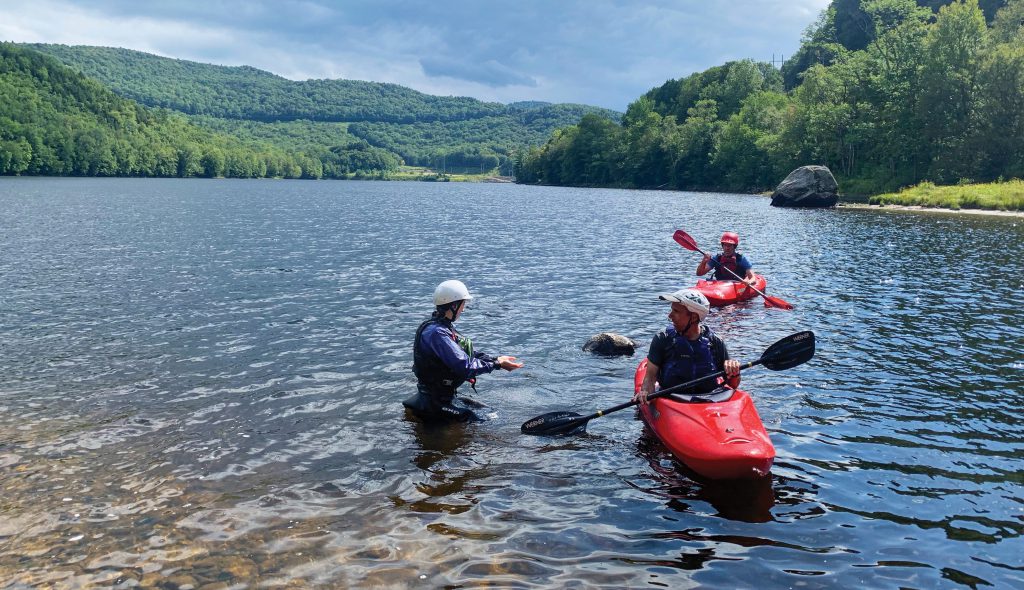 Eight months later, on the same river, I paddled downstream with an army of kayaks and rafts filled with friends. It had just stormed, so the water level was higher. On my first day, it had been 2.5 feet. This day, it was 6 feet. Waves were bigger. The current was faster. I was nervous as we plunged into the river's biggest rapid: The Funnel. Laughter was drowned out by the sound of roaring water, and when I looked downstream all I saw was white. I took a deep breath in and felt the adrenaline in my chest. I breathed out, trusted my skill. In the middle of the rapid, I was pure focus, one paddle stroke after the other, eyes ahead. When I came out the bottom, I was elated. The whole group shouted and screamed with excitement.
When I first started kayaking, there was this strange boat that wouldn't stop spinning. It flipped over unexpectedly, I was under water and had to pull the skirt to exit the boat while holding my breath.
Then there was the river. The views of the river were the first reason I fell in love with kayaking. I would see an otter slip into the river from the shore, then get a refreshing splash of water on my face as I hit a wave. There's a feeling of awe as I paddle down the lowest point of a valley, with mountains that reach into the sky all around.

If the river drew me into the sport, the sport itself kept me there. It's an activity that requires time, dedication, and willful drive. I remember a day at a pool session in late October; I was just learning to roll (to flip the boat upside down, and then flip it back upright). I'd gotten my roll in September and lost it mid-October. I tried and tried, flipping over, setting my body position, trying to snap my hips and twist my body to reach the surface once again. I worked with a dedicated instructor who gave me little tweaks—cock my wrist forward, follow my paddle blade with my eyes, and loosen my death grip on the paddle. He struck a balance between when to push me to try again, and when to take a breath. Eventually, the little tweaks and persistence led to a solid roll. One I could rely on when I flipped over in the midst of a rapid.
After two semesters of college and the river, I applied to Zoar Outdoor Adventure Resort in Charlemont, Massachusetts. A friend in the paddling program at Hampshire said I should apply. She said I could continue learning the sport as I learned to teach it. When I filled out the application, it asked: Why do you want to work at Zoar Outdoor? I said, because I want to be on the river as much as possible. Zoar Outdoor works mainly on the Deerfield River, though they often do trips to Miller's and the Connecticut at different times in the summer. Zoar offers clinics for all skill levels that range from 1–5 days in length. They often have a couple of different groups, as well as custom-designed private clinics.
I went to my first American Canoe Association certification course in March. Ice and snow lined the riverbanks. That first course was a huge challenge; I realized not only how much I needed to learn, but how much I didn't know I needed to know. There was a world of paddle strokes, playboat moves, and rescue skills I'd never heard of. I was still coming to terms with the classes of rapids: I–VI (Class I as moving current, Class VI as Niagara Falls). Often times, I couldn't imagine knowing enough, or being skilled enough to be on a certain river. How could I imagine teaching others to do the same? But as we discussed the numerous ways to teach a single skill—the ways we would individualize, demo, give examples and analogies—I soon understood how concepts and skills click differently for different people, and how to provide comfort to a student until they did.
After a summer shadowing clinics and a winter of practice, I became a full-time instructor at Zoar. This past summer, I led clinics with my coworkers and friends, as well as on my own. I am consistently humbled by my fellow instructors and students, people dedicated to the love of a shared sport, willing to offer tips on a new wave, excited to scout a rapid, and talk about all the different lines you could take, happy to help gather people and gear after a swim, attentive to the great blue herons as they fly down the river, and careful to be kind to the mergansers who shared our eddies. For the novice, intermediate, to advanced paddler, every day on the river contains moments of joy and growth.
In two years, I've gone from a boat that wouldn't stop spinning to a boat that spins on waves. I've paddled down an icy creek in 20-degree weather and have emptied my boat on the shore more times than I can count. I've spent hours in pools practicing rolls and playboat moves, and traveled to rivers from Massachusetts to Connecticut, Vermont, West Virginia, Canada, and Ecuador. As I've grown from Class I-II waters into a budding Class V paddler, the most important knowledge I carry with me is that one never stops learning. No matter where we are in our skillset, the river always has more to offer. There's always a new sight to be seen, a new move to try on a wave, or a new line on a rapid that hasn't been attempted before. But as the things I've learned change and grow, the dedication to the sport, the joy and commitment from the river community, and awe for the landscape have remained from day one.
A moment from a beginner's clinic this past summer epitomized all these aspects of whitewater. We were in an eddy at Fisherman's Bend, a rapid on the upper section of the Fife Brook on the Deerfield River. A group of students, about seven of them, were practicing their first peel-outs into the current. Each student approached the eddy line, leaned on the downstream edge, and entered the current. They went one-by-one, returning to the eddy where another instructor and I gave advice. Suddenly, a student noticed something coming down the rapids. There was a baby bear swimming downstream. It came around the bend, then swam into the eddy on the opposite riverbank from us. It ran up on shore, looked back at us, then rushed into the forest. There was a moment of silence, then giddy exclamations from the group, me included. After the excitement subsided, I said, "Alright, who's next?" One-by-one, students paddled across the eddy line and into the current. Some wobbled, some spun around on the eddy line—nervous to punch through the rapid. I thought back to some of my first peel-outs in the same spot: I was nervous, wobbly, and intimidated. But each time it got easier. For each peel-out I did two years ago, and for each one my students that day, cheers rose from the eddy. I watched as confidence grew, and soon enough, we paddled on downstream, merganser style.
Photo Courtesy of Zoar Outdoor; Illustration Credit: Getty Images, nappelbaum.
Subscribe Today