What's for Dinner?
Well, if it's May or June, it's fresh shad! Indigenous to the East Coast from Newfoundland to Florida, American shad migrate from the salty Atlantic to fresh river waters to spawn. Its Latin name, Alosa Sapidissima, translates to "most savory shad" or "delicious herring," which indeed it is. Shad's unique flavor is both an acquired and sought after taste.
American Shad was first introduced to the settlers by the Native Americans and became a staple in their diet, and smoked shad is said to have saved Washington's army from starvation during the harsh winter months.
In recent history, overfishing, developmental damming and environmental issues decreased the shad population. Today, shad is considered a delicacy, especially the female roe. Many local restaurants offer a variety of seasonal shad dishes served with indigenous vegetables including fiddlehead ferns. Shad roe is sometimes confused with caviar, which is typically from a sturgeon and has been brined. American shad roe is prepared primarily in its sac. If you are industrious, you can prepare many savory dishes at home. The challenge is removing the many minuscule bones. There are few folks left to do this tedious work, which has become a lost art, but you can trust your fish monger to get the job done. Mikmaq Indian folklore tells us that the shad was thought to be an "inside out porcupine!"
One of my favorite ways to enjoy shad is completely simple and can be, if creatively presented, an elegant hors d'oeuvre.
If you're not up for trying shad at home, there are several community events that celebrate the shad including the Windsor Shad Derby and the Essex Shad Bake, both in Connecticut. So there's no excuse to ignore this delicious Connecticut River fish.
MELODY TIERNEY is an avid foodie and has enjoyed sharing her passion with friends and family for many years. She and her husband, Phil, were also bed and breakfast owners in Southampton, New York, serving up a signature breakfast every morning.  This and their gracious hospitality earned them Inn of the Month in Travel and Leisure magazine.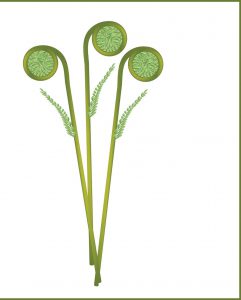 From the Forest
Fiddlehead Ferns
Wild edible fiddleheads are the coiled green shoots of ostrich ferns and are foraged from the forest floor April through early June, which makes for a timely pairing with shad and are also rich in omega-3 and 6 along with vitamins A and C, electrolytes, and several minerals. Note... Fiddleheads should be thoroughly washed and cooked...never eat them raw.
♦ Soak 2 cups of fiddleheads in cold water for a few minutes, trim ends, blanche in boiling water for 2 minutes and remove to coldwater bath.
♦ Pat dry and add to heated olive or butter and sauté gently for 5 minutes.
♦ Sprinkle with 1 tsp each of lemon juice and zest and a pinch of sea salt.
♦ Serve with shad and perhaps some creamy mashed potatoes.