What's for Dinner?
Well, if it's May or June, it's fresh shad! Indigenous to the East Coast from Newfoundland to Florida, American shad migrate from the salty Atlantic to fresh river waters to spawn. Its Latin name, Alosa Sapidissima, translates to "most savory shad" or "delicious herring," which indeed it is. Shad's unique flavor is both an acquired and sought after taste.
American Shad was first introduced to the settlers by the Native Americans and became a staple in their diet, and smoked shad is said to have saved Washington's army from starvation during the harsh winter months.
In recent history, overfishing, developmental damming and environmental issues decreased the shad population. Today, shad is considered a delicacy, especially the female roe. Many local restaurants offer a variety of seasonal shad dishes served with indigenous vegetables including fiddlehead ferns. Shad roe is sometimes confused with caviar, which is typically from a sturgeon and has been brined. American shad roe is prepared primarily in its sac. If you are industrious, you can prepare many savory dishes at home. The challenge is removing the many minuscule bones. There are few folks left to do this tedious work, which has become a lost art, but you can trust your fish monger to get the job done. Mikmaq Indian folklore tells us that the shad was thought to be an "inside out porcupine!"
One of my favorite ways to enjoy shad is completely simple and can be, if creatively presented, an elegant hors d'oeuvre.
If you're not up for trying shad at home, there are several community events that celebrate the shad including the Windsor Shad Derby and the Essex Shad Bake, both in Connecticut. So there's no excuse to ignore this delicious Connecticut River fish.
MELODY TIERNEY is an avid foodie and has enjoyed sharing her passion with friends and family for many years. She and her husband, Phil, were also bed and breakfast owners in Southampton, New York, serving up a signature breakfast every morning.  This and their gracious hospitality earned them Inn of the Month in Travel and Leisure magazine.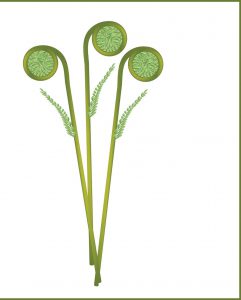 From the Forest
Fiddlehead Ferns
Wild edible fiddleheads are the coiled green shoots of ostrich ferns and are foraged from the forest floor April through early June, which makes for a timely pairing with shad and are also rich in omega-3 and 6 along with vitamins A and C, electrolytes, and several minerals. Note... Fiddleheads should be thoroughly washed and cooked...never eat them raw.
♦ Soak 2 cups of fiddleheads in cold water for a few minutes, trim ends, blanche in boiling water for 2 minutes and remove to coldwater bath.
♦ Pat dry and add to heated olive or butter and sauté gently for 5 minutes.
♦ Sprinkle with 1 tsp each of lemon juice and zest and a pinch of sea salt.
♦ Serve with shad and perhaps some creamy mashed potatoes.
Simply Sautéed Shad Roe for Two
Considered the "foie gras" of seafood, shad roe is also high in Omega-3 and 6 fatty acids...brain food!
♦ Season 2 lobes of shad roe with salt and pepper on both sides. Be gentle so as not to break sacs.
♦ Heat a pan over medium heat and add 1 TBS of butter and a dash of olive oil to evenly coat pan.
♦ Add thinly sliced garlic (3 cloves) and sauté until golden.
♦ Gently lay shad in pan and brown 3–5 minutes on each side until firm.
♦ Remove from pan and lower heat...add 1 TBS of butter and a handful of chopped parsley to garlic...stirring until parsley is soft.
♦ Squeeze in juice and add zest of ½ lemon or as desired.
♦ Add more butter or olive oil if needed.
♦ Spoon sauce over shad roe and serve!
Worth the Effort
Shad Roe with Bacon and Capers for Four
♦ Place 4 shad roe lobes in a baking pan and cover with 1½ cups of buttermilk... let sit for 1 hour.
♦ Sauté 6 slices of bacon until crisp. Drain and break into large pieces.
♦ Add 1 TBS of vegetable oil to bacon fat and warm to medium/high heat.
♦ Gently lift roe from buttermilk, dredge in salted flour, slip into skillet and cook approximately 3 minutes on each side until crispy and brown.
♦ Keep warm while making sauce.
♦ To skillet, add 3 TBS of capers, rinsed, drained, and chopped, and 2 TBS minced shallots.
♦ Cook over medium heat stirring for 1 minute.
♦ Stir in 1 TBS sherry vinegar and a handful of chopped parsley.
♦ Season with salt and pepper to taste and spoon over roe. Top with bacon and serve!
Simply Broiled Shad
♦ Prepare shad by checking and rechecking for any errant bones.
♦ Rub with olive oil, and salt and pepper to taste.
♦ Broil skin side down, 6 inches from broiler for 4–6 minutes.
♦ Serve warm or at room temperature on a white fish platter with a fresh herb garnish such as thyme, oregano or parley…whatever is handy.
♦ Serve with water crackers or crostini and let your guests help themselves!
Subscribe Today